The Slovak Chamber of Commerce - Bratislava division is organizing February 7, 9:45 - 11:30 round table for its members together with the Indian Chamber of Commerce in the Slovak Republic and Indian Embassy in Slovakia. We are proud to be part the event and discuss the possibilities about INDIA, Indian market, opportunities with the import or export and other interesting questions.
Venue:
Bratislavská regionálna komora SOPK
Jašíkova 6, 826 73 Bratislava
(zasadacia miestnosť 4.posch)
If you are attending the seminar and would like to share some further ideas with us, please contact us at This email address is being protected from spambots. You need JavaScript enabled to view it. or call directly 0917 252 978
Following questions were raised prior the seminar:
1. Seeking for distributor in India. What are the possibilities of INDCHAM when it comes to the marketing.
2. What are the rules of incorporating company or joint venture in India
3. What are the possibilities to meet Steel Producers in India, can you introduce some?
4. What is the portion of graphite used in the solar panels, who are your suppliers of graphite panels, we are producers (not marketers) of graphite products can we establish cooperation with you?
5. What is the best way to establish first contact in India, what is the business environment in India?
6. What are the barriers between EU and India in commerce? Which things should one be aware of when establishing joint venture?
7. What is the situation of BIO products in India, can Slovak company export Bio products to India?
8. Best job portals for business executive and top management in English? Best fairs and conferences in the field of development, property investment, real estate, construction industry and architecture? Best PR and marketing companies for international branding in India?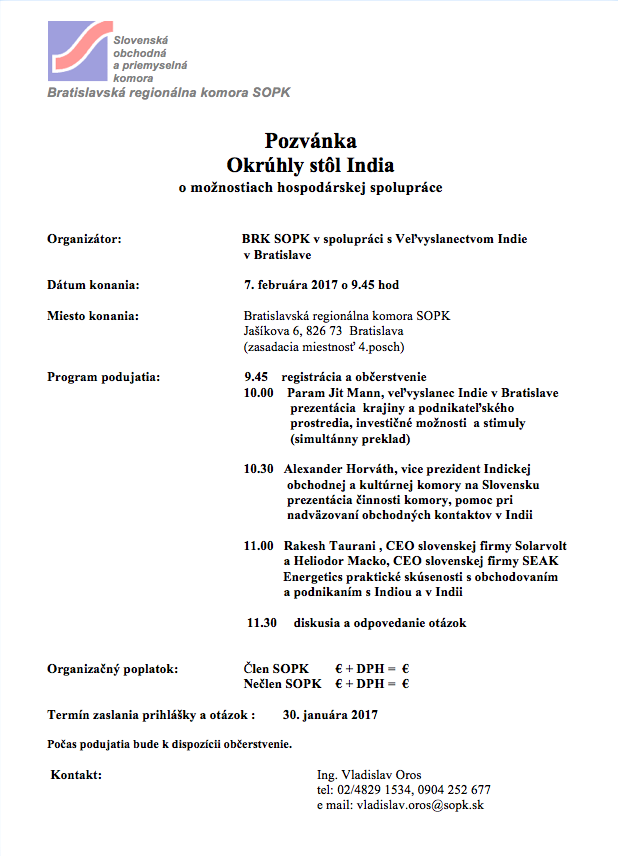 Uložit
Uložit